FIA Formula 2 next generation car breaks cover in Monza
The FIA Formula 2 Championship has unveiled the F2 2024 car to the international media in the Formula 1 paddock in Monza today, Thursday 31st August.
The design philosophy of the new car, which will be raced in the 2024, 2025 and 2026 seasons, is to give young drivers who aspire to race in Formula 1 the best preparation, by making it as close to an F1 car as possible in terms of safety, look, systems, performance, sustainability and accessibility, all at reasonable costs.  Moreover, the nose, front and rear wings and floor have been designed to encourage wheel-to-wheel racing, which will lead to thrilling on-track action.
The new car, which features the latest FIA safety innovations, is powered by a 3.4 litre turbo-charged Mecachrome engine, and includes some new features to accommodate the Aramco synthetic sustainable fuel that will be introduced in 2025. For 2024, the F2 car will continue to run on Aramco 55% bio-sourced sustainable fuel, which was successfully introduced in 2023.
The F2 2024 has also been designed to comply with the FIA 2024 specifications in terms of braking, steering effort and ergonomics to accommodate a wide range of drivers and make the championship as accessible as possible.
The car systems will still include marshalling such as Virtual Safety Car (VSC), and optimised Drag Reduction System (DRS), whilst the electronics have been enhanced with a new Marelli Vehicle Control Unit (VCU).
The car completed a successful shakedown in July in Varano, with former F2 driver Tatiana Calderon at the wheel. Following today's unveiling, the development programme will continue over a number of tests across the remainder of the year, with several drivers including 2022 FIA Formula 2 Champion Felipe Drugovich.
The programme will comprise sufficient mileage to ensure reliability before the cars are delivered to the teams, and further development will be done throughout 2024, 2025 and 2026, as the sustainable component of the fuel increases to reach the target of 100% of synthetic sustainable fuels in 2027.
One will be delivered to the teams before the end of December 2023, and the second car will be delivered in mid-January 2024. There will be a shakedown with the teams before the first official pre-season test, with one car per team.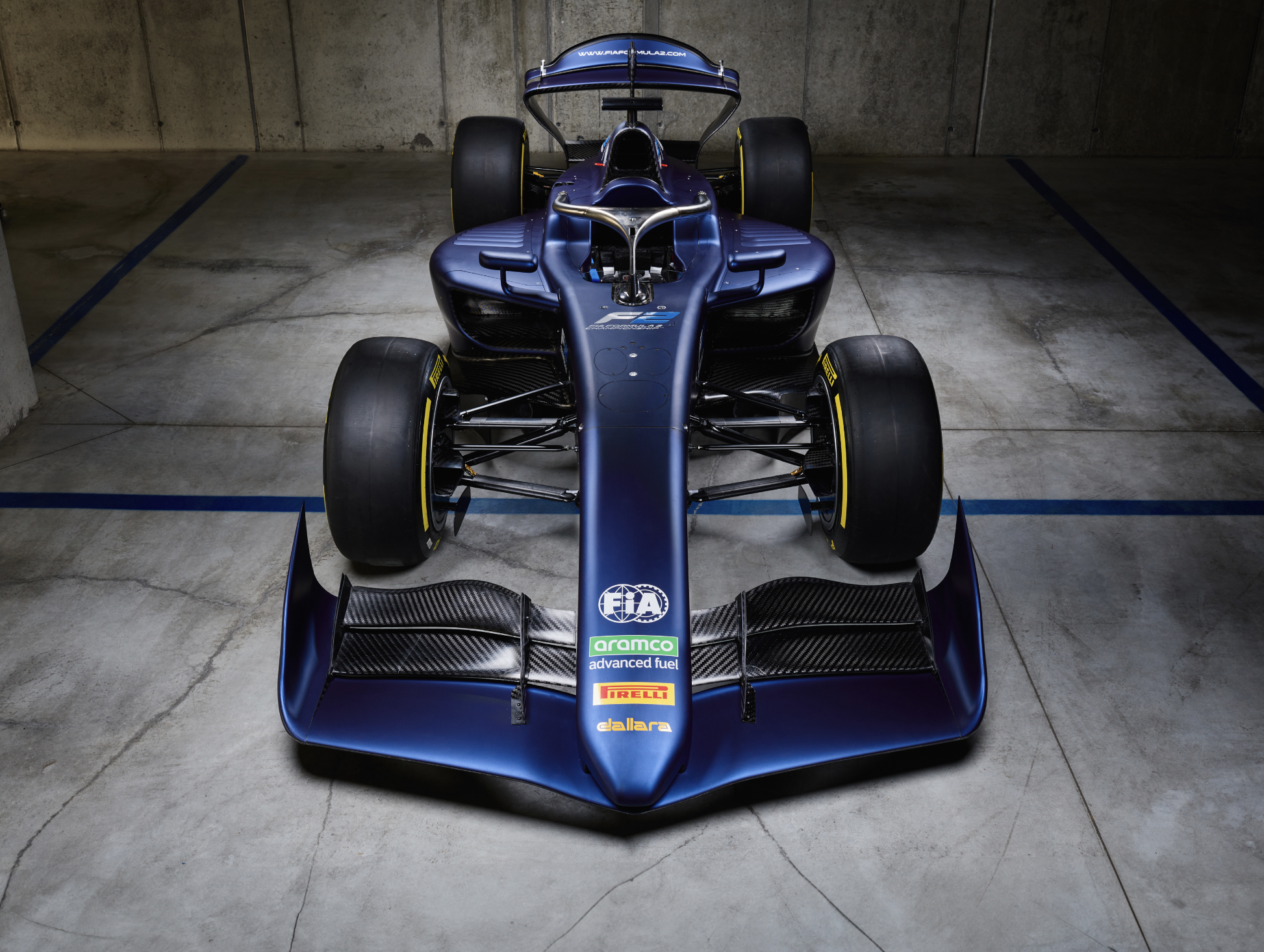 Click here to see more images of the F2 2024 car. 
FIA Deputy President for Sport, Robert Reid, said: "The launch of this next generation of FIA Formula 2 car marks the start of an exciting new chapter for the championship. A huge amount of work has been done by the FIA, Formula 2 and its partners to put together what is a truly impressive package focused on close racing, the latest safety technologies, even greater environmental sustainability and better accessibility for drivers than ever before. This significant step will bring Formula 2 closer to the pinnacle of motor sport, ensuring that the next generation of drivers get the best possible preparation for the future and also put on a fantastic show for the fans around the world. 
"Seeing how design philosophies and technologies are cascading down from Formula 1 to the junior categories is a great testament to the FIA single-seater pathway that guides young talents from around the world towards a successful career in top-flight competition, and we are all looking forward to seeing this car in racing action next season."
Stefano Domenicali, President and CEO of Formula 1, said: "F2 consistently delivers excellent racing and acts as an important training ground for future members of the Formula 1 grid, and by bringing the design philosophies of the two cars closer together we will support this development further. The new F2 car is also an important symbol for our sustainability journey as the series continues to pioneer advanced sustainable fuel which will become a part of F1 from 2026. I want to pay tribute to Bruno and his team as well as the FIA for our continued strong collaboration in this category. I can't wait to see the car on track next season."  
FIA Formula 2 Championship CEO, Bruno Michel, said: "I'm very proud to present our new F2 car, which will race for the next three years. Together with the FIA, we've designed a powerful, challenging and safe car that will prepare young drivers for F1, and that will continue to provide great racing and a lot of overtaking opportunities, something that the fans expect from F2.
"It has been designed also to fit all types of drivers, taking into account FIA's consideration regarding the steering effort. This is obviously key to making our sport more inclusive, by enhancing our car's driveability and comfort.
"One of our main focuses remains costs control. So, we have kept the same engine and gearbox, and there are a lot of carried-over parts from the previous car. Finally, we made sure that the teams can manage this new car with 12 operational people, as per the Sporting Regulations.
"I want to thank our partners Aramco, Pirelli, Dallara and Mecachrome, who are key in making this car safe, reliable and the best racing machine to prepare our drivers for Formula 1."
The 2024 FIA Formula 2 car – Details
Dimensions
·       Overall length: 5284 mm
·       Overall width: 1900 mm
·       Overall height: 1097 mm (including FOM roll hoop camera)
·       Wheelbase: 3135 mm
Engine
·       V6 - 3.4 litre single turbo charged Mecachrome engine.
·       Rated to 620 HP @ 8750 rpm.
·       Fly by wire accelerator system.
·       Rebuild after 8000 km.
·       Maximum Torque 570 Nm @ 6000 rpm.
Monocoque and Bodywork
·       Survival cell - Sandwich Carbon/aluminium honeycomb structure/Zylon anti-intrusion panels made by Dallara.
·       Front and rear wing - Carbon structures made by Dallara.
·       Bodywork - Carbon - Kevlar honeycomb structures made by Dallara.
Safety standards
·       Full FIA F1 2024 safety standards.
·       Titanium Halo F1 specification.
Gearbox
·       6-speed longitudinal Hewland sequential gearbox.
·       Electro-hydraulic command via paddle shift from steering wheel.
·       ZF SACHS Carbon clutch.
·       No on-board starter.
·       Non hydraulic ramp differential.
Steering system
·       Non-assisted rack and pinion steering system - FIA 2024 specification.
·       New XAP steering wheel with dashboard, gear change, clutch and DRS paddles, marshalling & VSC display.
Electronic features
·       New Marelli Marvel VCU 480 ECU/GCU including data logging system.
·       New Marelli FOX 442 power supply management unit.
·       CAN data acquisition pre-equipment.
·       Beacon receiver.
·       F1 type VSC & Marshalling system.
Suspension
·       Double steel wishbones, pushrod operated, twin dampers and torsion bars suspension (Front) and spring suspension (Rear).
·       Adjustable ride height, camber and toe.
·       Two way (F) / Four way (R) adjustable Koni dampers.
·       Adjustable anti-roll bar (Front/Rear).
Wheels and tyres
·       O.Z. Racing magnesium rims.
·       18" x 12" front wheel dimension.
·       18" x 13.7" rear wheel dimension.
·       F2 specific Pirelli slick / wet tyres.
·       TPMS Texense (Tyre Pressure Monitoring System).
Brakes
·       6 pistons monobloc Brembo callipers.
·       Carbone Industrie carbon-carbon brake discs and pads.
Fuel
·       Aramco 55% bio-sourced sustainable fuel for 2024.
·       ATL FT5 fuel cell 125 litres – FIA standard
DRS
·       Same functionality of DRS used in Formula 1.
·       Hydraulic activation.
Extinguisher system
·       New FEV system (electrically operated), in accordance to the latest FIA standards.